Olympus Tough vs. Canon PowerShot SD4000
I take a lot of pictures outside to help document and describe trails on my outdoor blog. I prefer to use a point and shoot camera that I can fit in the pockets of my shorts and pants. The first two cameras I used were Kodak EasyShare models. They worked fine but both broke down pretty quickly after heavy use hiking and mountain biking. Next, I bought and still use an Olympus Stylus Tough 6000 because of its durability. Specifically, I wanted a camera that can withstand just about anything. It performed really well on Colorado trails because they typically have an open landscape that is well-lit by the sun (i.e., about 300 days/year). Unfortunately, after moving to Virginia the Olympus Stylus Tough became inadequate because it performs very poorly in the low light of a dense Appalachian forest. Now, for low light situations I use a Canon PowerShot SD4000 IS. The following is a review of both cameras and which includes a high level comparison of features.
The Olympus Stylus Tough 6000 has lived up to the expectation of being a seriously tough camera. It survived being dropped in Pandapas Pond in Virginia, where it was submerged for a couple of minutes before being retrieved. In addition, I dropped it four feet off the ground onto solid rock at Colorado Natural Monument and then took the following picture with it.

Colorado National Monument taken with Olympus Stylus Tough
The Canon PowerShot SD4000 is already starting to breakdown after only 10 months of use on trails. First, the shutter sometimes gets stuck and doesn't open completely. This is not a big deal because it opens all the way with a light touch of the finger. However, it was very disappointing to get home after a long hike to McAfee Knob to discover that the next picture had a black shadow in the upper right corner. Second, the LCD Monitor now goes dark when I hold the camera sideways to take pictures vertically. It is safe to say that I'll be using my Tough for years to come whereas I'm on pace to replace my PowerShot in the next year or so.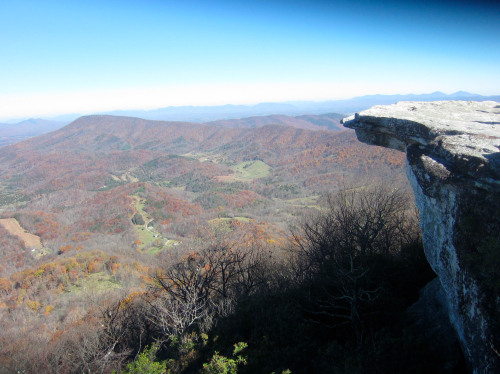 McAfee Knob in Virginia with the Canon PowerShot shutter partially closed
As you can see in the picture above, the Olympus Stylus Tough takes decent pictures in broad daylight. However, the pictures below show how poorly it performs in the low light of a dense Virginia forest. My local camera shop recommended the Canon PowerShot SD4000 for low light photography because it has a CMOS sensor. I don't know how the CMOS sensor works but I can attest that it does improve picture quality (see below). The following pictures were taken using default settings because, honestly, the more I tinkered with the settings the worse my pictures turned out.
| | |
| --- | --- |
| | |
| Olympus Stylus Tough 6000 | Canon PowerShot SD4000 |
| | |
| Olympus Stylus Tough 6000 | Canon PowerShot SD4000 |
I still use the Tough because it takes panoramic pictures whereas the PowerShot does not. It is challenging to get three pictures to line up correctly using the Tough's panoramic mode but it does well enough to have fun with it (see next picture). The PowerShot has a stitching feature that I believe requires computer software (too much work for me).


A decent panoramic photo of Kamas Lake in Utah taken with Olympus Stylus Tough
The PowerShot has significantly better video capabilities (i.e., HD 720p video) because it is about two years newer than my Tough. In addition, the PowerShot can take high-speed burst pictures, but that feature is more useful for taking pictures of moving objects (e.g., your kids) than still objects (e.g., outdoor landscapes). Both cameras are 10 megapixels, come with a charger, have great battery life, and can take self-timer pictures.