Teva Omnium Review
I received my Teva Omnium men's hiking sandals, model # 6148, as a gift in March 2010. I wore them almost every day 18 months. They served me well in normal day-to-day use as well as for light hiking on trails in Utah and Virginia. I highly recommend these sandals because of their comfort, odor control, and durability.
The Teva Omnium sandals are very comfortable both with and without socks. I wear them in hot weather to keep my feet cool and in rainy weather so I don't slip. I even wear them in cold weather (with socks of course) because they are more comfortable than my other shoes. What's more, they are great for traveling because they are easy to slip on and off in the car and at airport security. The only times I don't wear them are when I want ankle support while carrying my daughter in our child carrier backpack or when snow might cause my feet to get wet and cold.
At first, I wore them unbuckled because it made them easy to slide on and off. I eventually had to buckle them because the webbing on top of my foot started to stretch and loosen the fit. There have been times without socks that I have a developed a callus and/or blister on the back of my right heel. I have found that putting a band-aid on the blister solves the problem, which seems to have diminished over time. I suspect that my blisters are less about the sandal and more about my foot and/or how I walk.
The most impressive aspect of these sandals is that they do not develop a stench after repeated use in and around water. I have worn them through streams while hiking, in lakes while playing on a beach, and on rainy days while running errands. What's more, I have not made any effort to clean them and, thus, Teva's odor control technology really works. Notably, I wore them in the Pacific ocean and afterwards they smelled really bad. I put them in the washing machine and they returned to their odorless state.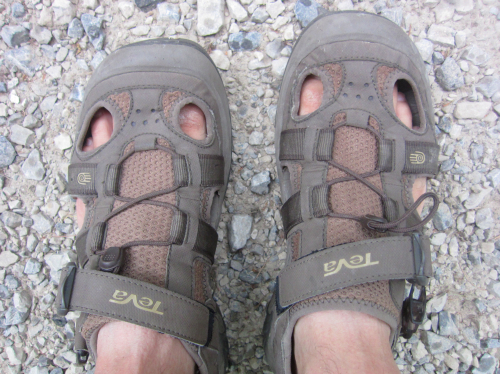 In addition to every day use, they are highly functional and have proven to be very durable on day hikes, beach play, fishing, boating, and walking around town. I wore them almost every day for 18 months and they still feel and look great. However, the soles' support and traction has worn thin and I have relegated them for use to complete miscellaneous chores. I have replaced them with Teva's Verdon WP light hiking shoes.