Ergon GP1 BioKork Review
I bought my Ergon GP1 BioKork handlebar grips in January 2012 because I was experiencing neck and back pain along with numbness in my hands. With them, I have mountain biked over 200 miles, most of which has been on curvy and hilly single track in Iowa. I chose the BioKork model because it was partially made with sustainable and recyclable materials. Installing them on my Niner SIR 9 was easy except I had some confusion regarding the end plugs. They were difficult to install but ultimately fit. I highly recommend these handlebars because they have helped to reduce pain in my neck, back, and hands and to improve handling.
Immediately after installing them, my neck and back pain subsided. However, numbness in my hands persisted. A mechanic at my local bike shop recommended that I lower my tubeless tire pressure from 28-30 PSI to 22-24 PSI. Lowering my tire pressure has helped but my hands still get a little numb on longer rides.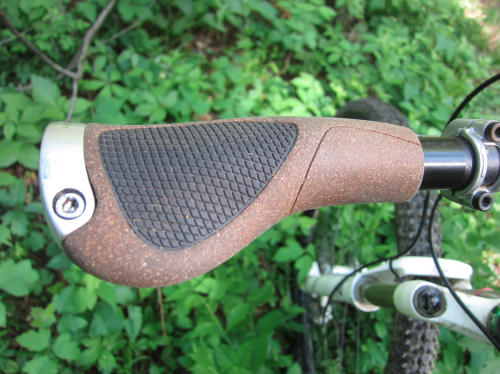 The BioKork grips are comfortable. The larger than normal surface area that they provide helps to make my bike feel more like an extension of my body. On rough terrain, I feel like I have more control over my bike and, thus, feel more secure and confident.