Merrell Outland Review
I bought my Merrell Outland men's hiking boots in the summer of 2008 and have hiked over 300 miles in them. Most of my hiking has included additional weight incurred by carrying my child in a carrier backpack. I chose the Outland Mid Waterproof model because it was cheaper than the GORE-TEX model, provided enough support to hike with a child in a carrier, and was lighter weight than the more rugged models. They have served me well on day hikes in Colorado, New York, Utah and Virginia. I highly recommend these boots because they are comfortable, waterproof, and long-lasting.
When selecting these, the most important features were that they would provide comfort, traction, and support while hiking with the added weight of having a child in a carrier. The Vibram sole has performed very well for this purpose. Specifically, I value the support and traction of the soles while hiking up and down steep trails that require putting all of my weight on one foot.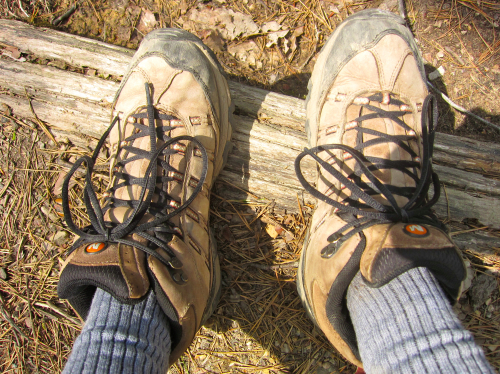 At no point have I wished that I had bought more expensive boots with GORE-TEX because the waterproof construction has worked great. I confidently hike through streams up to four inches deep and know that my feet will be kept dry. In addition, they have performed well in snow but fail to keep my toes warm in freezing temperatures. I don't doubt that GORE-TEX provides a higher level of protection, but, for my purposes, I haven't needed it. What's more, these boots have remained odor free, even after repeated use in and around water.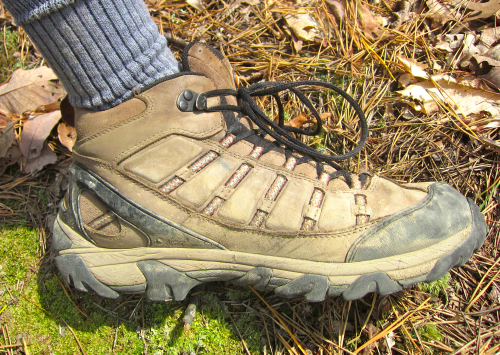 The soles are in good condition after over 300 miles of hiking. The only negative sign of wear is that sometimes the insole slips around when taking them on and off. However, this is only a minor issue. Every other aspect of the shoe has held up well.