2003 Giant Boulder Review
I bought a red fully rigid 2003 Giant Boulder for $220 in March of 2004. At the time, I didn't know how much, if at all, that I would ride it so that it is why I chose Giant's base level bike. Seven years later, it is safe to say that I have taken it places it was never meant to be including rugged terrain in three states (CO, MO, VA).
I recommend buying a Giant Boulder if you plan to ride on streets, rails to trails, and other smooth surfaces. It does not absorb bumps on rugged trails and, thus, your body will end up taking most of the wear and tear. I have broken my rear axle twice riding on rocky trails with one to two foot drops. Further, the direct-pull cantilever brakes do not provide the precision braking needed for advanced trails. I have found it dangerous to ride this bike beyond its limits.
Even though I don't recommend it, I have ridden my Boulder on all types of trails. Over time, I made a few minor enhancements to make rugged riding a little easier. First, I added toe clips but found them to be dangerous because my feet sometimes got twisted in them and stuck. Second, I swapped out the 1.95 inch tires and put a 2.35 inch Swoop in the front and a 2.10 inch tire in the rear (the largest that would fit). The larger tires were capable of absorbing some of the bumps when I lowered my pressure to around 32 PSI. In addition, they made the bike feel sturdier on rugged trails whereas I felt like I was getting thrown around when using the 1.95 inch tires. Finally, I switched to clipless pedals. They have been the single biggest improvement to my riding experience because they have made me more powerful riding uphill and more confident bouncing down rugged terrain.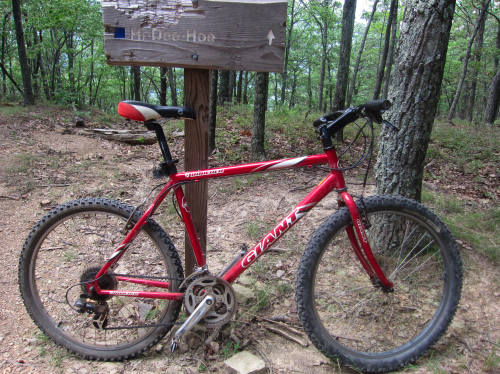 My Giant Boulder proved to be durable with rugged use, basic cleaning, and novice maintenance. I researched a new mountain bike for over a year and ended up choosing a Niner single speed. I struggled to determine how nice of a bike to get because my $220 Giant Boulder greatly surpassed the expectations of all the local shop bike people I had spoken with over the years. I decided to go with a base model from Niner because I knew it would be solid without breaking the bank.