Shimano M520 pedals & M086L shoes
The Shimano M520 and M086L are my first pair of clipless pedals and shoes. Previously, I used toe clips and platform pedals. Although platform pedals are simple and safe, they do not do well in wet conditions and are not easy to use on rough terrain. Toe clips work well except when a foot gets twisted and stuck in one of them, which can make an impending crash worse than it would have been otherwise.
My motivation to try clipless pedals was to become a stronger rider and it seems like all serious mountain bikers use them. I purchased Shimano pedals and shoes from my local bike store. I didn't do much research and was looking for an economical option to get me started. The M520 pedals were $60 and the M086L shoes were $110.
With my purchase, my local bike shop provided a personalized fitting that included pedal and shoe alignment, seat height adjustment, horizontal seat alignment, and handlebar tweaking. The pedal and shoe alignment was performed to make sure that the balls of my feet were correctly positioned over each pedal to ensure effective rotation and pressure. The seat height was adjusted so that I would get proper leg extension. The horizontal seat alignment was done to make sure that I wasn't too far forward and, thus, potentially putting too much pressure on my knees. Handle bar tweaking improved my posture by encouraging my back to be upright and straight instead of learning too far forward in a hunched position. I highly recommend a custom fitting for first time clipless pedal users because it will give your local bike store an opportunity to teach you the basics of cycling ergonomics.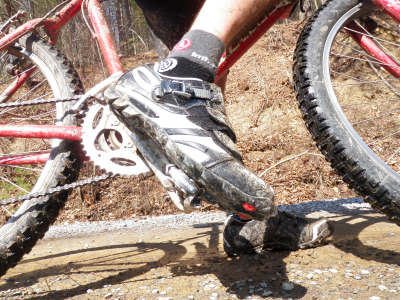 Adjusting to clipless pedals was a painful process for me because I repeatedly got my feet stuck in them which would cause me to fall unnecessarily. I recommend adjusting each pedal retention to its weakest setting to start because it is unsafe and not fun to have your feet stuck in them. Use the diagram below as a reference to uniformly weaken all four retention settings, two on each pedal. I use the width of the end of a small allen wrench as the distance that should be between each adjustment bolt and plate. Weakening the retention has made a huge difference for me and now both feet can exit with ease.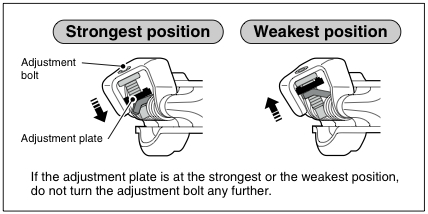 Having my feet secured to my pedals allows me to ride in wet conditions whereas I used to struggle to keep my feet on platform pedals that quickly become slippery. In addition, I like having my feet secured to my pedals when cruising down hills and over rough terrain. With platform pedals, my feet sometimes slipped off when flying down hills. My Shimano shoes consistently clip into my pedals, even after walking through mud, snow, and streams. My local bike store recommends spraying them with cooking spray so that mud and other grime will be less likely to stick, and this tip has worked well so far.
Riding in wet conditions, confidently bouncing over rough terrain, and powering up hills are the main advantages of clipless pedals over platform pedals. My biggest problem to date is that I have not mastered the skill of exiting from my pedals while riding uphill because my body weight is shifted forward which seems to make it harder to apply the correct twisting pressure needed to exit. Further, riding uphill is slower and offers less time to unhook the pedals whereas riding downhill allows you to coast for a short distance before needing to use your feet to touch the ground. Half way through my second ride, I tweaked the cleat retention adjuster on my right pedal because it felt like the left pedal was easier to twist out of. Being able to adjust the retention mechanism mid-ride was a huge confidence booster because I was fearing for falls on my right side due to not get being able to get that foot free.
In sum, the Shimano M520 pedals and M086L shoes have been great. What I have learned about these clipless pedals includes:
Use a weak cleat retention setting so feet can easily be unhooked.
Maintaining control going down big hills is less problematic because I can focus on the trail instead of maintaining my balance.

Pedaling over rough terrain is now trouble-free because I don't have to worry about my feet getting bounced off platform pedals.
Powering up hills is done with less energy and more speed.
Riding in wet conditions including stream crossings and in rain is now possible whereas riding with slippery platform pedals was somewhat dangerous.
The cleat retention adjuster allows me to customize the ease with which my shoes clip in and out.