Amazon Prime & Free Super Saver Shipping
All of our products ship directly from an Amazon warehouse and, thus, orders over $25 are eligible for FREE Super Saver Shipping. In addition, Amazon Prime accounts can experience free two-day shipping. Your order is secure and backed by Amazon's A-to-z Guarantee which guarantees your purchase, the condition of the item you buy, and its timely delivery.



Discover Hiking & Mountain Biking Trails
Our blog is an online resource for hiking and mountain biking trails in Colorado, Virginia, Utah, Iowa, and New York. Our free information includes directions, maps, elevation charts, level of difficulty, pictures, videos, camping sites, plants, and animals. We hope it helps people to spend more time outdoors and connect with nature in an environmentally-responsible way.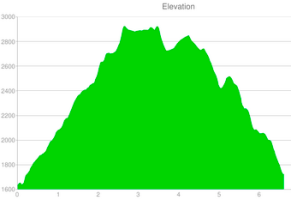 Eco-Friendly Gear for Outdoor Adventures
We sell eco-friendly gear made out of reclaimed materials like bicycle tubes and plastic water bottles. In addition, we promote long-lasting and reusable products for cycling, hiking, and camping. We work with other eco-minded small businesses like ChicoBag, LunchSkins, To-Go Ware, Grease Monkey Wipes, Cycle Dog, and Green Guru Gear. For products we don't sell, read our detailed reviews:
2003 Giant Boulder
Boot Scoot Zoomer
CoPilot Taxi Child Bike Seat
ERGOBaby vs. BabyBjorn
Ergon GP1 BioKork
Kelty K.I.D.S. FC 3 Carrier
Kryptonite KryptoFlex Lock
Merrell Outland Boots
Tough vs. PowerShot
Planet Bike Bicycle Lights
Shimano Pedals + Shoes
Single Speed Niner SIR 9
Teva Omnium Sandals
Live a Healthy, Active Lifestyle
Commuting by bike is a great way to save money on gas, exercise, and help the environment. For that purpose, we recommend recycled PET backpacks, reflective leg straps, and LED lights. For some basic maintenance help, read our step-by-step instructions that include pictures:
Bicycle Cleaning & Preparation
Direct-Pull Brake Adjustment
How To Add Tire Sealant
Rear Derailleur Adjustment