Kelty K.I.D.S. FC 3.0 Child Carrier
The FC 3.0 is Kelty's top of the line child carrier. Having kids is no longer an excuse for not hiking because it provides comfort for both you and your child. Mounting and adusting the FC 3.0 takes some practice and getting used to. However, it will not be long before you can easily and quickly load your child into the carrier. In addition, using it provides your child an opportunity to sleep while you focus on enjoying an outdoor adventure.
On level ground, it does not add much stress to your hike. However, hiking up and down inclines and declines is a full body workout that requires mental focus. Thus, I recommend that you reduce stress on your knees and ankles and improve your balance by using LEKI walking poles.
My daughter and I have hiked over 200 miles using our Kelty FC 3.0, including hikes of seven miles and climbs of elevation over 1,000 feet. In this time, it has remained strong and has not shown any signs of undesirable wear and tear. We really enjoyed using it from the ages of 14 months to three years. However, we found that the weight of the bag and child became too heavy as she approached 35 pounds. An easy way to reduce the weight of the bag is to remove the small backpack in the back and leave the bottom compartment empty. In addition, at around three years she became more interested in walking and less interested in riding.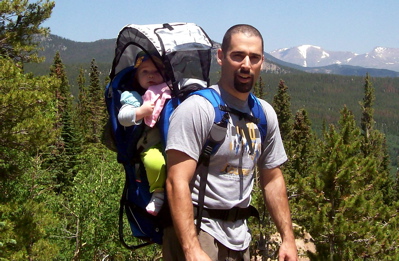 Key features of the Kelty FC 3.0:
Can carry a child up to 50 lbs but we stopped using it when she reached 35 lbs because the whole setup became too heavy and she was able to walk longer distances
Removable rain/sun shield
Removable diaper bag that includes a changing pad and space for diapers, wipes, baby sunscreen, maps, and other items
Kickstand that prevents it from falling over when loading and unloading your child
Adjustable straps and harnesses to fit people of varying body types

Secondary storage compartment big enough to hold rain jackets and food
A hand mirror for viewing your child
External storage for two steel water bottles
Tips for using the Kelty FC 3.0:
Keep a water bottle handy since the FC 3.0 water bottle storage straps are unreachable when it is mounted or put a CamelBak sack in the back storage compartment leaving the mouth piece reachable

Make sure that the chest strap that links the two shoulder harnesses is kept in an up position because the strap brackets may slide off at the bottom
Carefully use a spotter and/or elevated surface when loading and unloading your child
Attach your child's favorite toy or blanket using one of the two loop straps located on top of the carrier